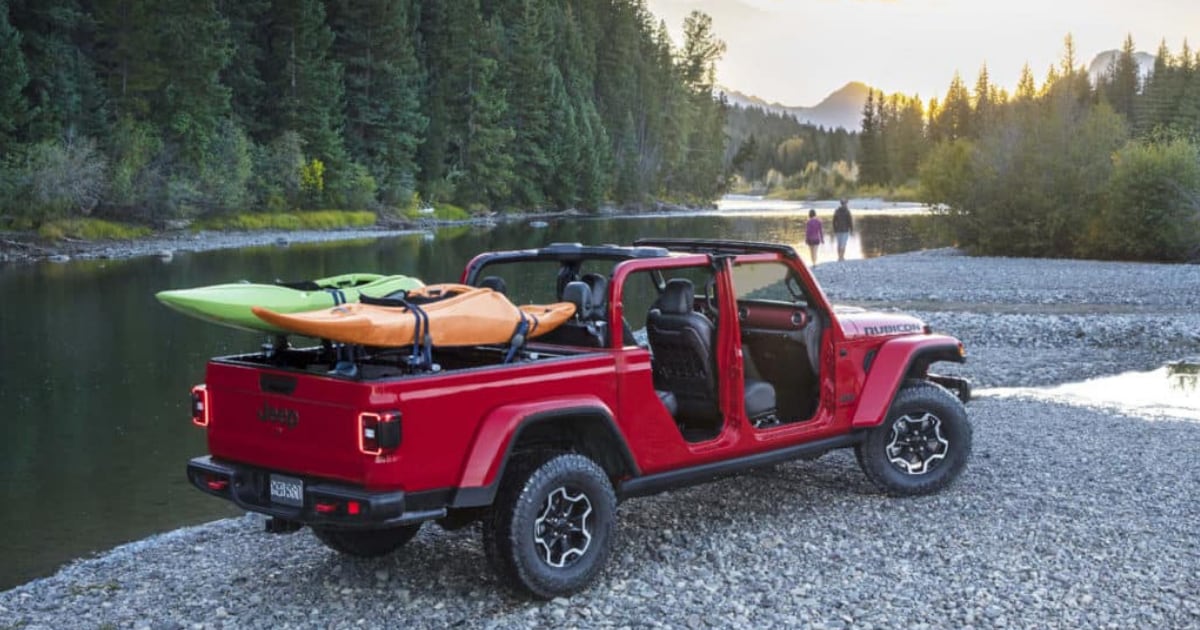 At Schmit Bros. Chrysler Dodge Jeep and Ram we're excited to make room on our lot for the upcoming 2020 Jeep Gladiator. This all-new Jeep pickup highlights the power and strength of Jeep with the space and capabilities you expect in a leading pickup. Learn more about the incredible new Jeep Gladiator specs in this review from the pros at Schmit Bros.
All-New Jeep Gladiator Specs
At 7,650 lbs, the new 2020 Jeep Gladiator has been equipped with the absolute best towing features available. It also comes with 33-inch all-terrain extremely sturdy tires so you can get any job done - regardless of how rough the terrain is or how bad the weather gets.
The engineers at Jeep have gone all-out in creating this masterpiece of power and drivability, so you can dominate any terrain in the country. This new Jeep comes with four impressive levels of trim features: Sport, Sport S, Rubicon, and Overland. This Jeep looks amazing both on or off the road and this vehicle can handle both with ease and comfort. If you're looking for appeal and function – this Jeep has both aspects down pat.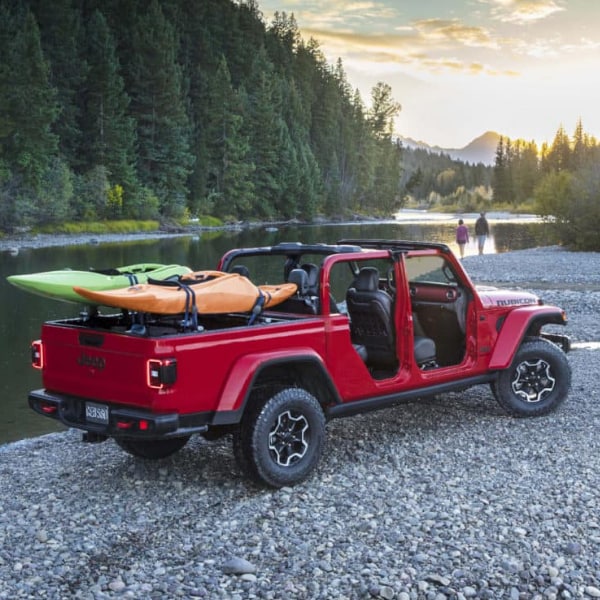 This pickup truck is undoubtedly one of the most-anticipated automotive releases of 2019. Packed with phenomenal performance, remarkable off-roading features, and a unique and stylish design, this mid-size truck has been something Jeep lovers have been waiting for for years!. It doesn't matter what type of disaster lies in front of you, the Gladiator will get you through it (and it's also great for getting your kids to softball practice).
For those of you who are curious about Gladiator's performance, this pickup is set to gain the best-in-class spot quite effortlessly. Thanks to its powerful 3.6L V6 engine, it generates up to 285 horse power and enables the truck to tow up to 7,650 lbs with the proper equipment. Its 4-wheel drive configuration is completely unique and manual or automatic transmission options are also available.
Uber Stylish and Available in Vibrant Colors
It's important not to forget the beautiful design of the 2020 Jeep Gladiator. It's everything a Jeep lover can ask for and so much more. It is available in a plethora of bright colors and features enough room so you can customize the interior and exterior features to your heart's content. The ruggedly beautiful appearance of this mid-sized pickup is already making waves in the auto industry. Wondering which color you like best? Check it out up close at Schmit Bros. Dodge today!
Test Drive the Jeep Gladiator Today!
The new Jeep Gladiator is a beast of a truck with eye-catching features - specifically designed for that inner adventurer in all of us! Whether you are planning a long trek with friends or off-roading on the harshest terrains, you're sure to be impressed with the all-new Jeep Gladiator.
Interested in a test drive? Call us at 262-284-8844 or
stop by our showroom
today. Come see what customers have known for over 100 years – you'll drive away happy when Schmit happens! Schmit Bros. Dodge is your Saukville and Port Washington Chrysler, Dodge, and Jeep experts!